Are weddings bells still ringing for Andy Murray? He is on a honeymoon of sorts because since getting married to Kim Sears on 11th April, he has not lost a match and in the last month since tying the knot he has won two titles, in back-to-back weeks.

Murray, a two-time winner of the Shanghai Rolex Masters had never won a clay court title and now he has two in consecutive weeks with the latest being the Mutua Madrid Open, an ATP Masters 1000 event and this time he defeated the "king of clay", Rafa Nadal, for the first time in seven matches on the surface.

Murray captured his second title in Madrid (2008 was on indoor hard court) by defeating Nadal 6-3, 6-2 with Queen Sofia of Spain presenting him the trophy. Nadal still however leads their overall head-to-head 15-6.

For Murray this is his tenth ATP Masters 1000 title and in 2015 he has an impressive 30-5 win-loss record. Nadal, meanwhile, was chasing his fifth Madrid crown but he has now dropped to a 39-9 tournament record; the left-hander had previously won the title on indoor hard court in 2005 and then on clay in 2010, 2013 and 2014.

It was not so long ago that Nadal was invincible on clay but this year of the five clay events he has played, Buenos Aires, Rio, Monte Carlo, Barcelona and Madrid, he has won just one, Buenos Aires.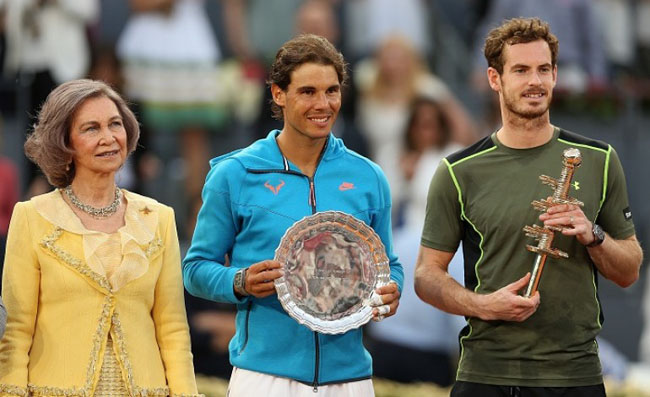 "Today I was just more consistent," Murray said. "In the second set Rafa was starting to play better at the beginning and the middle part. But I stayed strong in that period of the match and he started to make some mistakes at the end that he wouldn't normally make. That obviously helped me finish the match.

"I wasn't expecting this a couple of weeks ago, so when things are unexpected, it feels nicer. I didn't feel like I put too much pressure on myself the last couple of weeks, which is a good thing. But obviously to win a Masters 1000 on clay is a step in the right direction. It's something I had never done before. So that's good progress there."

This title is the 33rd of Murray's career but it's only his third win over a top ten player on clay, the other top tenners he has beaten on clay are Kei Nishikori in the Madrid semis and before that six years ago in Monte Carlo he beat Nikolay Davydenko. The world No.3 becomes only the fourth player to beat Nadal in a clay court final joining Novak Djokovic (4), Roger Federer (2) and Horacio Zeballos (1). That would be quite a Trivial Pursuit question!

Nadal drops to seven in the world rankings which marks the first time he has fallen out of the top five since 2nd May, 2005, when he was also ranked seven. That time the top five were Roger Federer, Lleyton Hewitt, Andy Roddick, Marat Safin and Gaston Gaudio. He was attempting to win his 28th ATP Masters 1000 title but instead he is now 27-14 in such finals.

What could be of concern is the fact that his clay court record in 2015 in 14-3 and the last time Nadal lost more than three clay matches in a season was his rookie year on the tour in 2003. Still, he feels there are positives and it would be a tough to not regard him the leading favourite for Roland Garros.

"I've played a couple good matches (this week), especially (the semi against Tomas Berdych)", Nadal said. "It's one of the best matches I have played in a long time. So I cannot leave Madrid not happy. I have to leave happy and just delete what happened today.

"I will just stay with the good things that happened this week, and there are a lot of them, more good than bad. I will try to recover the good feelings in Rome. I think I've made a step forward and I'm playing better. My game is better."

But for Murray those wedding bells continue to ring quite loudly in his ears as his confidence, on what has always been suggested to be his worst surface, continues to grow.

The doubles title was claimed by the new pairing of Rohan Bopanna and Florin Mergea who saved one match point when they defeated Marcin Matkowski and Nenad Zimonjic 6-2, 6-7, 11-9.