Like a modern day Julius Caesar, Novak Djokovic has marched into Rome and all but etched his name into the marble surrounds of the historic Foro Italico. The world No.1 has captured the Internazionali BNL d'Italia for the fourth time and for the second year in a row. Djokovic defeated Roger Federer 6-4, 6-3 in one hour 15 minutes. The result narrowed the head-to-head gap against Federer; it was his 19th win from 39 matches.

In the last decade Rome has been won by just two players, Djokovic and Rafa Nadal and they are the only ones in the Open-era to have won the title four or more times. Novak a two-time winner of the Shanghai Rolex Masters (2012, 2013) is only the fourth man to win the Rome title in back-to-back years joining Nadal, Jim Courier and Thomas Muster.

"It gives me a great deal of satisfaction the fact that I won these tournaments," Djokovic said. "I don't think I need to gear up or do anything special in order to be successful at Roland Garros. I have been very close to that title before having played several finals. I just need to continue preparing myself for that event as I prepare for any other. Just try to keep the routine going and hope it will take me to where I want to be."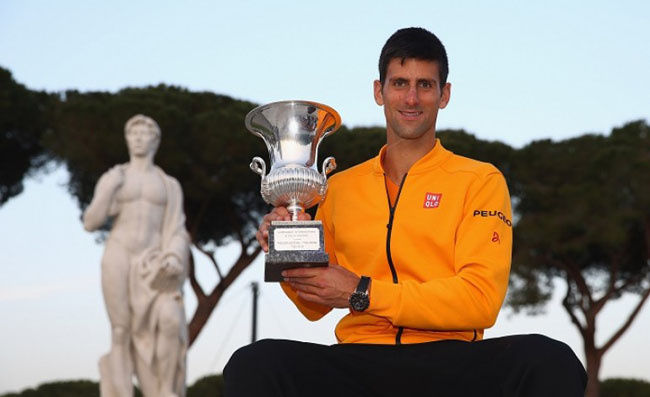 He has now won every ATP Masters 1000 he has played in 2015 – that's four of them; five have been played but he chose to skip Madrid. It is a reminder of his amazing run from 2011 when he was undefeated till the semis of the French Open.

The win was Djokovic's 22nd match win in a row and while that is impressive in itself, he is in fact on a 37 match win streak at the highest levels of events – Masters 1000's, World Tour Finals and majors.

"The fact that I have managed to win so many matches in a row gives me reason to believe I can do it again," Djokovic said. "Something present in my conscience and I want to keep it going as long as I can. I don't want to think over fear or everything else that can be an obstacle and interrupt the streak. I always try to do my best no matter what is the tournament and this kind of mindset has helped me to be where I am.

"I don't know if I can repeat what I did in 2011. There are things out of my control. What you can influence is the present and how you can get in the position to do well in the future. Hopefully this mindset is going to take m far at Roland Garros which has been a priority for me so far."

It was the fifth time in the last decade that the top two men's seeds have met in the Rome final but the first time the top seed has won. Going into the final Djokovic and Federer each had 23 career ATP Masters 1000 titles, Djokovic has now moved into clear second behind Rafa Nadal on 27. For Djokovic this marks the fourth time that he has been on a 20+ match win streak however it is Federer who leads the way with seven such streaks.

The Swiss also lost finals in Rome in 2003, 2006 and 2013. Monte Carlo and Rome are the only two ATP Masters 1000's he has failed to win while Cincinnati is the only event at this level Djokovic has never won.

"Considering the week I had really good matches and today 80% of the match was good too," Federer said. "I know I can play better too. Novak was rock solid today, he played great throughout and he made very few unforced errors. He was able to take the opportunities that presented themselves. I'm happy, feeling good and healthy and looking forward to Paris."
Federer, the reigning Shanghai Rolex Masters champion, still suggests that Nadal is the favourite for the French Open citing his record over the last ten years and the fact that matches will be played over five sets.

"We know how tough Rafa is physically and mentally, he is still the favourite for me," Federer said. "Maybe Rafa isn't having the same success as before but nevertheless that remains the situation for me; it's all talk and in the end it's the racquet that is going to do the talking. They are doing good but I hope it is not going to be between the two of them."

The doubles title was won by Pablo Cuevas and David Marrero who beat Marcel Granollers and Marc Lopez 6-4, 7-5.

So ends the last of the biggest events leading to the French Open and now there is heightened anticipation for Roland Garros starting in Paris on Sunday 24th May. Tres bien!