Novak Djokovic has become the first man to win the Indian Wells-Miami double three times. The world number one powered home in a two hour 47 minute final against Andy Murray on a hot, sunny day on the island of Key Biscayne, part of the Miami Keys that is accessed to the downtown area by the Rickenbacker Causeway.

The first two sets were tight and could have gone either way but then in the third Djokovic got the early break and then doubled his advantage by breaking again in the third game. It was that break which made the difference. It was along game which Djokovic finally won on his sixth breakpoint. Had Murray come back to hold serve there, things could very well have been a bit different.

Murray's confidence would have lifted from winning such a close game and Djokovic's, at the same time, could have slipped. But that is all history now as that final set mirrored the last set these two played in the Australian Open final and which Djokovic also won.

Djokovic has now won all of the biggest events on offer in the first quarters of the season – the Australian Open, Indian Wells and now the Miami Open. His start to the season is reminiscent to 2011 when he had a similar beginning.

"I hope so, but it's just the beginning; I don't want to predict anything," he said. "I don't want to put some additional unnecessary pressure on myself. There is already a lot of expectations of course. Everywhere I go I have to deal with it.

"But I could not ask for a better start of the season winning three big titles. Hopefully I'm able to use this for the clay court coming up. That's extremely important for me obviously leading up to French. We'll see. I feel good about myself right now on the court, and just going to take it slowly, one tournament at a time."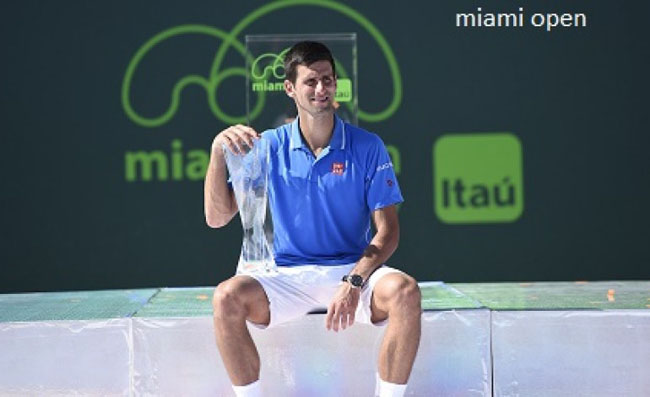 Besides the win giving him the Indian Wells-Miami double, the victory also gives Djokovic the 51st title of his career, it is his fifth Miami Open and 22nd ATP Masters 1000 – he remains in third place for such title but the gap has narrowed as he is now just one behind Roger Federer who he beat in the Indian Wells final, and Rafa Nadal who has 27. He has now defeated Murray in 18 of their 26 matches and stretched his hardcourt win streak against the Scot to ten.

"Well, it's obviously nice and flattering to hear that I have achieved another record (with th double)," Djokovic said. "Of course I do pay attention of that. Any kind of achievement that goes into history books I'm hugely proud of and I appreciate it very much, because I work hard for it and I do cherish it. Again, it's not something that obviously takes away my discipline. It just allows me to motivate myself even more. Just going to try and keep the same routine and mindset so far which helped me to achieve all these results."

Murray admitted to struggling physically which seemed strange considering that he frequently plays in the Miami conditions because he live in the city part time and practices on the very court they played on. He felt he played very well in the first two sets but indicated that he could have played the tiebreaker better.

"I've trained as hard as I can," Murray said. "Maybe I could have hydrated a little bit better or whatever, but I don't think that I can do a whole lot more physically to get in much better shape. So, you know, just to have try and keep working hard and see if there are a few things I can do differently which might help. You know, it's tough, because it was obviously pretty brutal conditions out there. Yeah, he was stronger than me at the end for sure."

Djokovic amazing form keeps him at world No.1 and he starts his 141st week at the top which equals Nadal's tally at No.1 – they are equal sixth overall. Murray will move up to No.3. Djokovic earned $900,400 for the victory

"Generally it was just a physical battle between the two of us that play similar game," Djokovic said. "You know, we haven't served that well, so we haven't had that many free points, as a matter of fact. With first or second serve we needed to earn every single point, to work for it. That's why this particular match was very tough."

The doubles title went to Bob and Mike Bryan, they defeated Jack Sock and Vasek Pospisil 6-3, 1-6. 10-8. Their trade mark chest bump was pretty full-on for the Bryans because this was a big win. The year so far has been disappointing by their standards and the American-Canadian opposition had beaten them in the Wimbledon final and also at Indian Wells.